Updated 12 May 2022

Hazinas 12th litter
Mating expected February 2022.


About the planned litter
We found Derek with owner Lina Grooma in Riga. Derek comes from Kennel Qwandoya, a kennel we know for their healthy, breed typical and well functioning dogs. Qwandoya is also known in the Ridgeback community for making many dogs who have proved their worth on international dog shows all over Europe.
Derek is a well balanced male, both physically and mentally. Stella is very good at working but at the same time she needs a handler who has surplus energi to support her. With Derek we have found a male that is selfcontious and calm.

Finding the right stud
We have had an eye on Derek a couple of years now. His pedigree is full of quality dogs, and for us there are some old acquaintances, that we are keen on breeding back to. Compared to the standard, Derek is well balanced both in expression and structure. He complements Stella by being perfect on things we have focus on and want to improve. He is gene tested clear on all known diseases. And last, but not least, he is a great dog with good mental ressources. It is difficult to disturb Derek's calmness and he has no male agression.
Derek's offspring is also healthy and well-functioning dogs. He has passed on his good temperament, his physical well-being and his expression.
| | |
| --- | --- |
| Baby Stella: | Baby Derek: |
| | |

We expect from this litter
We expect puppies with energy to work and with the classic Ridgeback sensitivity, but intelligent nature. Dogs with a lot of energy and intensity, but calm and relaxed when at home with their family. The bloodline has a rather big hunting drive, so it is important to work with positive and consequent reinforcement of bonding and the desire to return when called upon, if the wish is to decrease the hunting instinct. We expect dogs with a big amount of need of being close. Not just Stella, but in fact all in her bloodline prefer to spoon with their family and insist to stay close with us.
Both parents are healthy and sound and clear of all the diseases we can test for. Stella is bearer of the liver nose variety, but Derek is not. As the gene for liver nose is recessive, we do not expect any liver nose puppies from this combination. We do not know yet if we can expect any ridgeless puppies. It depends on if Stella's test result for ridge is homozygote or heterozygote. This has not been investigated yet. This is however not an issue for us. Ridgeless puppies occur here and there, and they are just as much appreciated family dogs as their ridged siblings.

We expect from our puppy buyers
We expect that you give your dog lots of TLC (tender, loving care) .


We expect that you attend puppy and youth obedience training and after that some form of dog activitoes. IMPORTANT: The time you invest in training and socialization the first 2-3 years, you will get back tenfold.


We expect that you get your dog x-rayed in hips, elbows and shoulders between the age 1½-2 years old, and that your veterinary sends the x-ray photos to the proper establishment (in Denmark the Danish Kennel Club) for an official evaluation.


We expect that you contact us, if you have any questions at any time.


We expect that if you are up against any kind of problem, you will contact us immediately, so that it affects your dog as little as possible.
When we meet, we will tell you about dysplacia and why it is very important to detect and prevent at an early stage. Furtunately dysplacia is not a problem in our breed in Denmark, and kennel Hazinas has a very good statistik. We believe that it is important to know that dysplacia can be both inherited and environmentally related. So even though both parents are free from dysplacia, a wrong environment, diet or excessive activation of a puppy can cause development of dysplacia.

When we meet we will also tell you about the Dansk Kennel Clubs mental evaluation of young dogs (UHM-Unghunde-mentalbeskrivelse). A very exciting experience. You will meet with 7-9 other RR owners and get an evaluation of you dogs mental state and you will become more aware of how your dog reacts in different situation. A fun day for all.
IMPORTANT INFO: We are here for you your dogs entire life, giving advice, guidance and help. We are just a telephone call away or a texted message.

Our dogs behind this litter - 5 generations
(click on the names if you want to know more about these dogs)
It all started with Tiwa (Stella's great-great-grandmother) who was Kennel Hazinas' first female in our breeding programme. We have a straight line of 5 generations, and we believe that this gives us an advantage.
We have seen what lies in the genes during our journey through these 5 generations, and we feel we have so much control that can be expected. We cannot map out the genes, but we have a rather good feeling about them because we have followed our dogs through 20 years of breeding. And by using well-balanced females and males with the best temperament we feel that we contribute to our breed with some good family dogs.
All our females and males in our breeding programme are mentally tested. And our litters are always mentally tested too when they are 7-8 weeks old, so that we can find the best match between the puppies and the puppy buyers and their family.

When you buy a puppy from us
Here at Hazinas we focus the most on making good family dogs. Health and temperament is our main priority. and as all puppies in Denmark are sold as family dogs, even though they also become obedience, show or working dogs, etc. we want to send out in the big world puppies with the best temperament.
As mentioned above, we know our females and males very well, and we make a huge effort to find friendly RR studs, who match our females perfectly. Also we breed under the standard and towards the African type.
When you buy a puppy from us you will get a range of extras, e.g. health certificate, Dermoid Sinus check, food for the first periode of time, collar, toys, blanket, and the puppies will be socialized with children, other dogs, transport in a car, etc. and have been out walking with collar and leach.
If you have any questions, feel free to contact Julie on +45 60 61 68 13.

Pedigree of the puppies
Click on the pedigree for enlargement.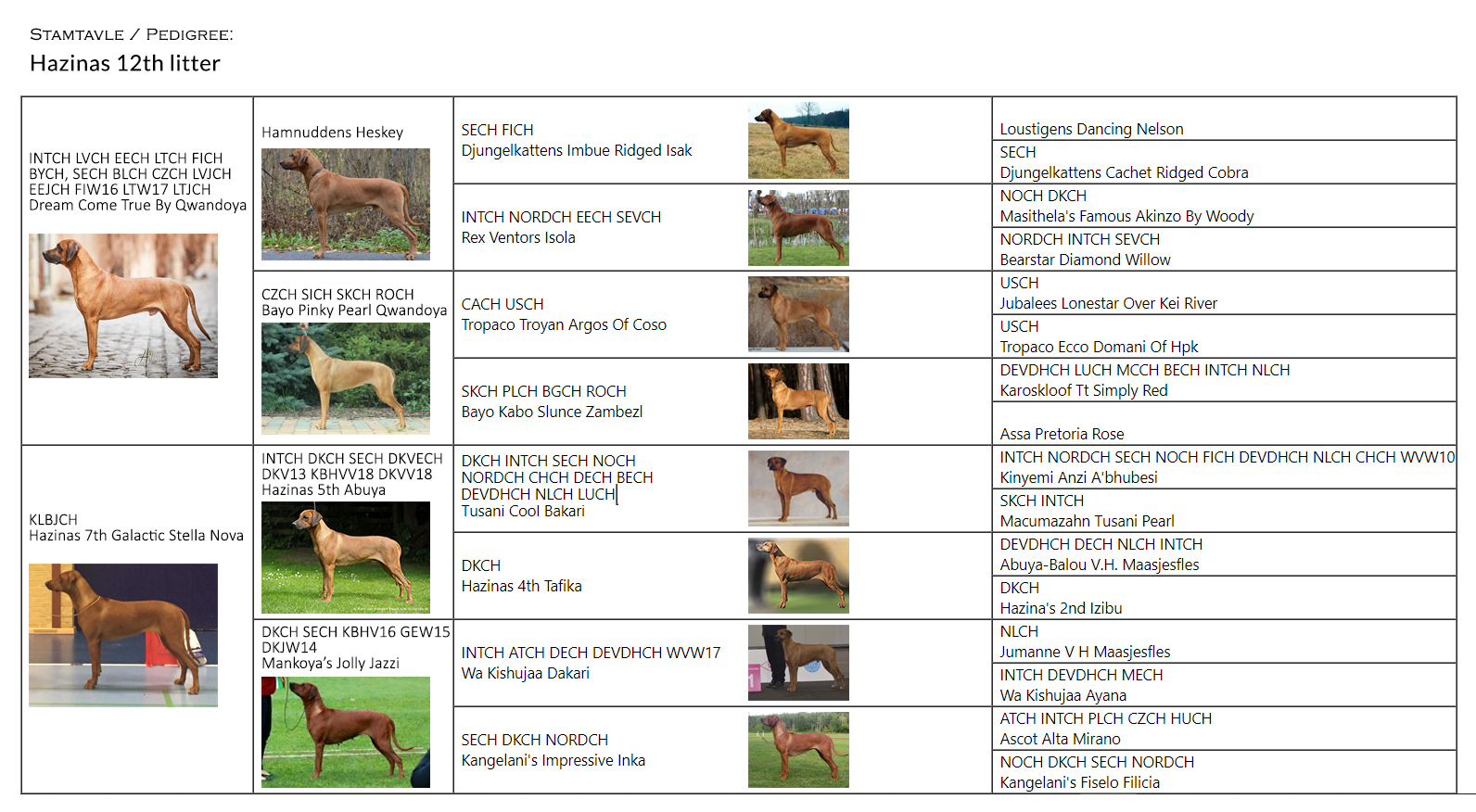 Click on the logo above to go to start page.

Contact
Julie: Mobile: 60 61 68 13,
e-mail: Lorentzen.kimmer@gmail.com.

Go to the puppies'
Photo Gallery here

DEREK: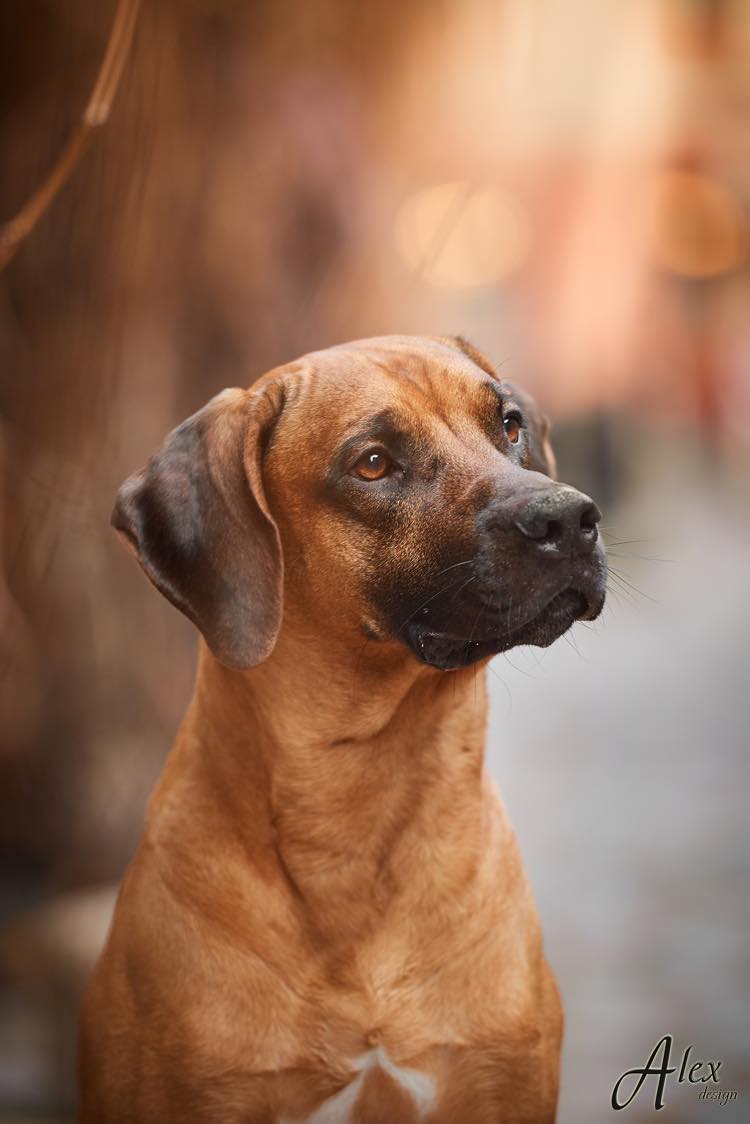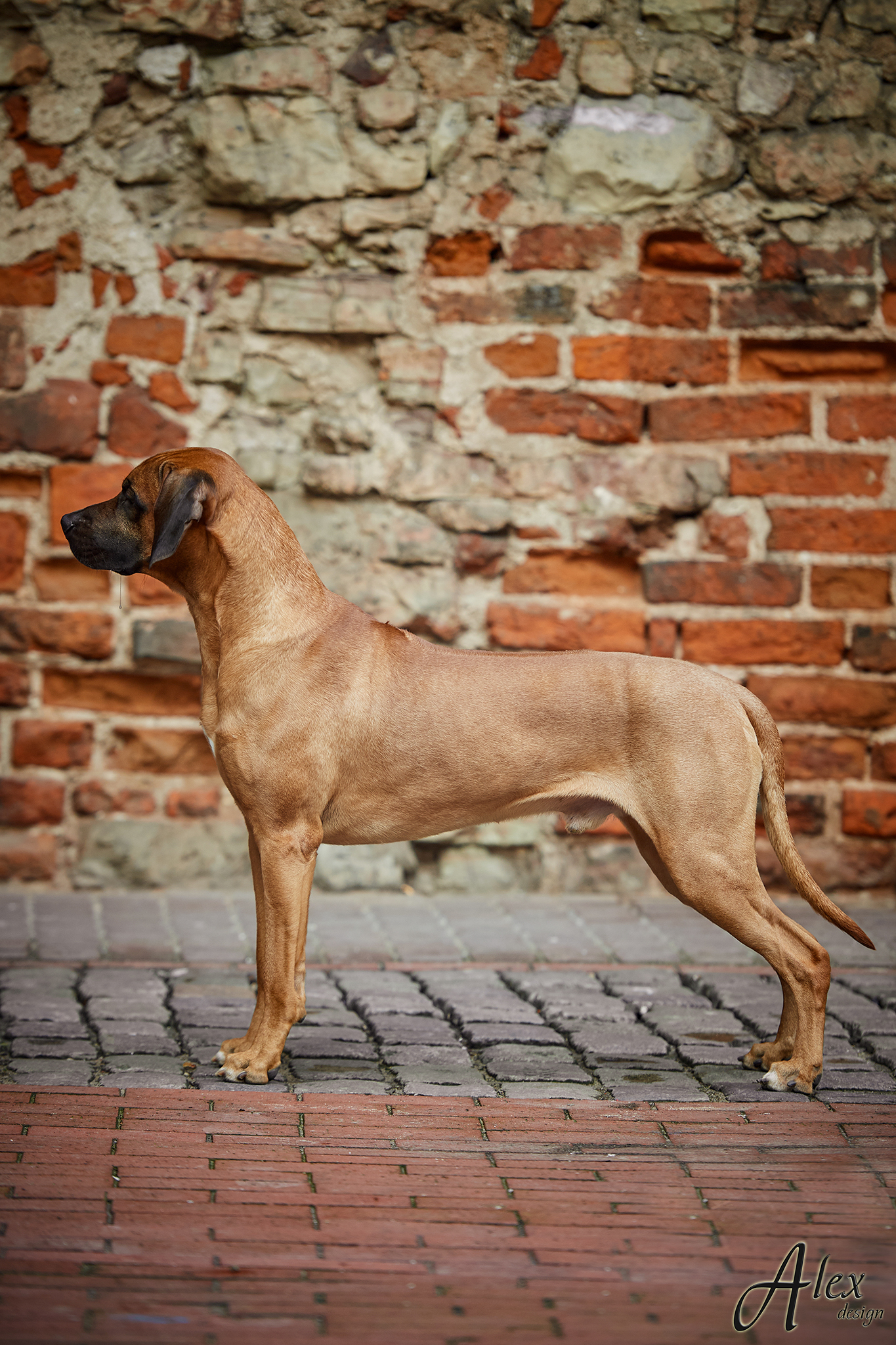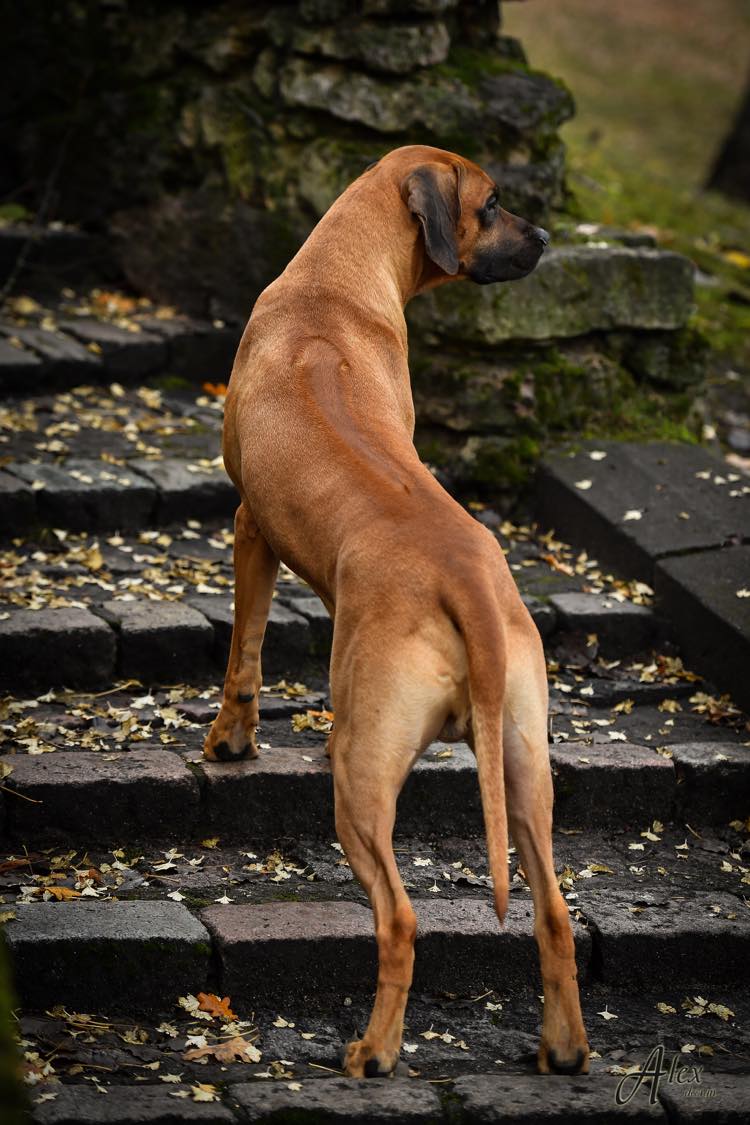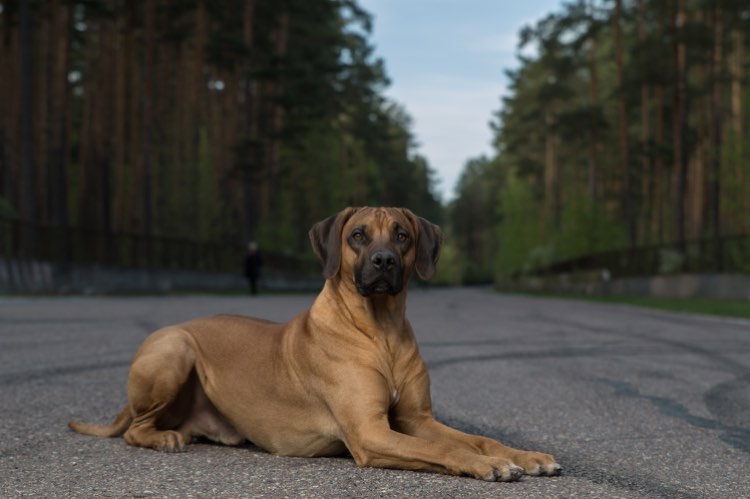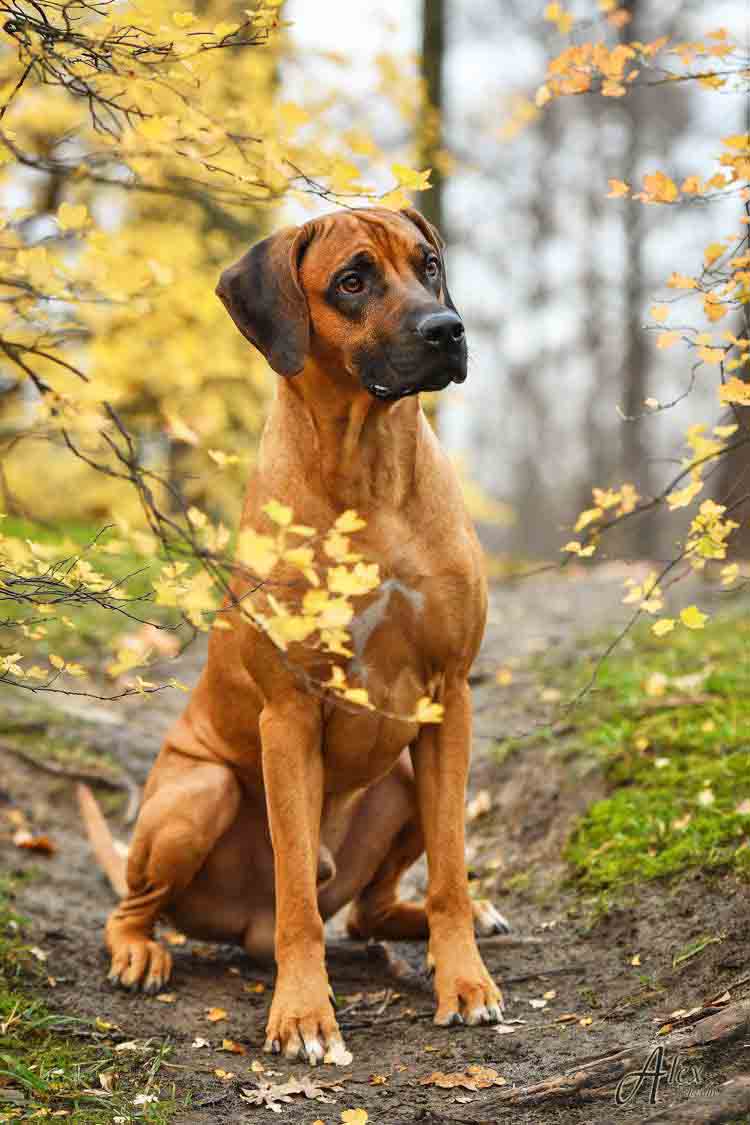 Read more about Derek
on his own web page

STELLA: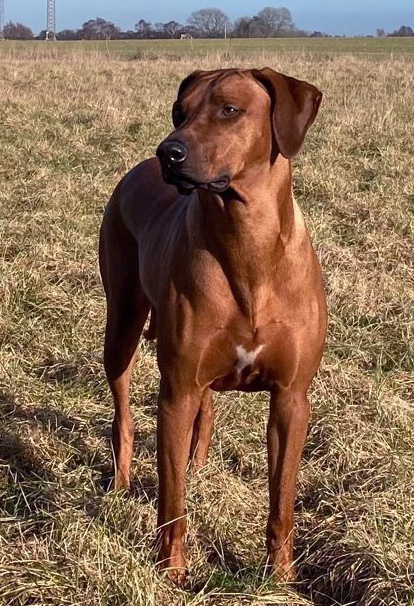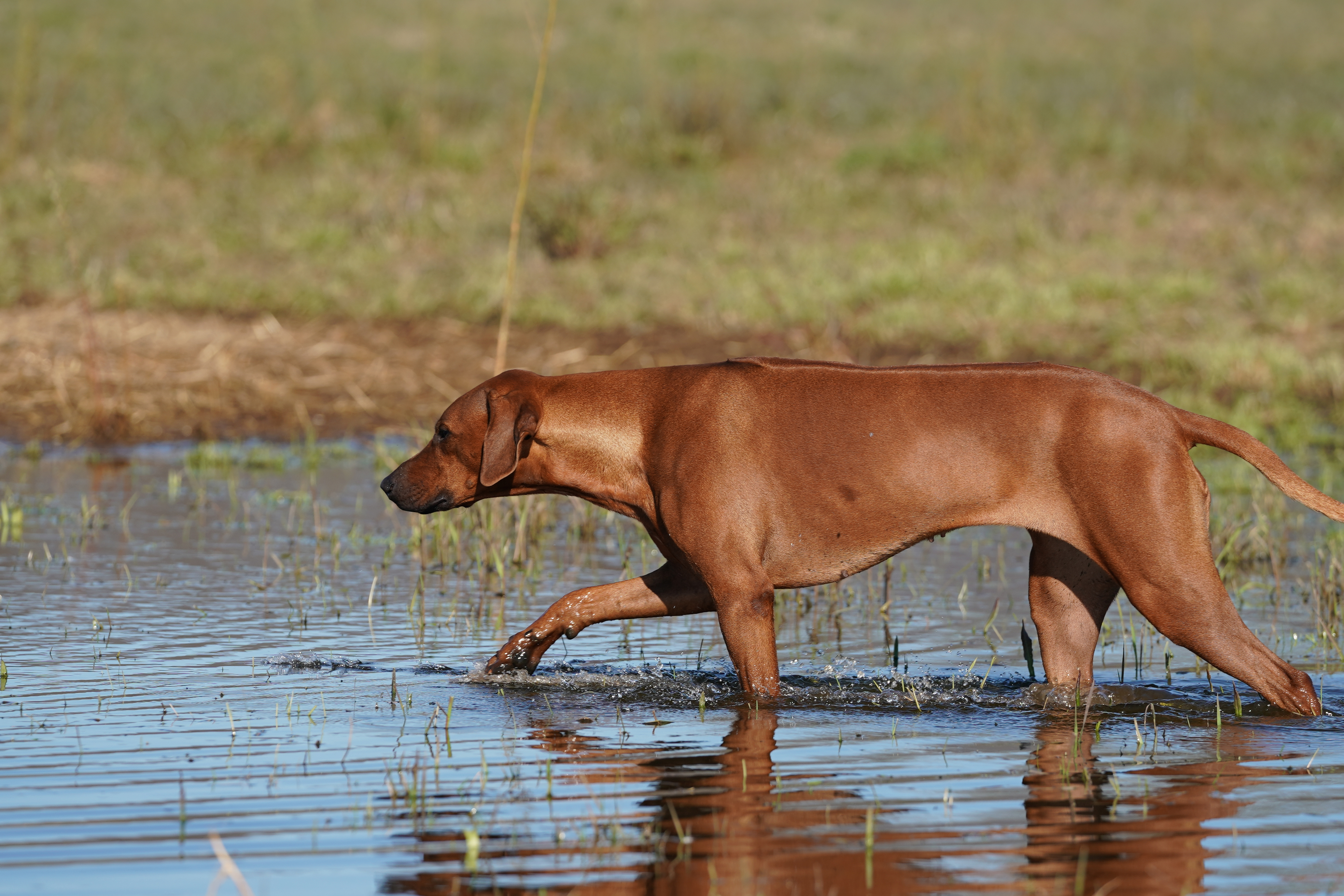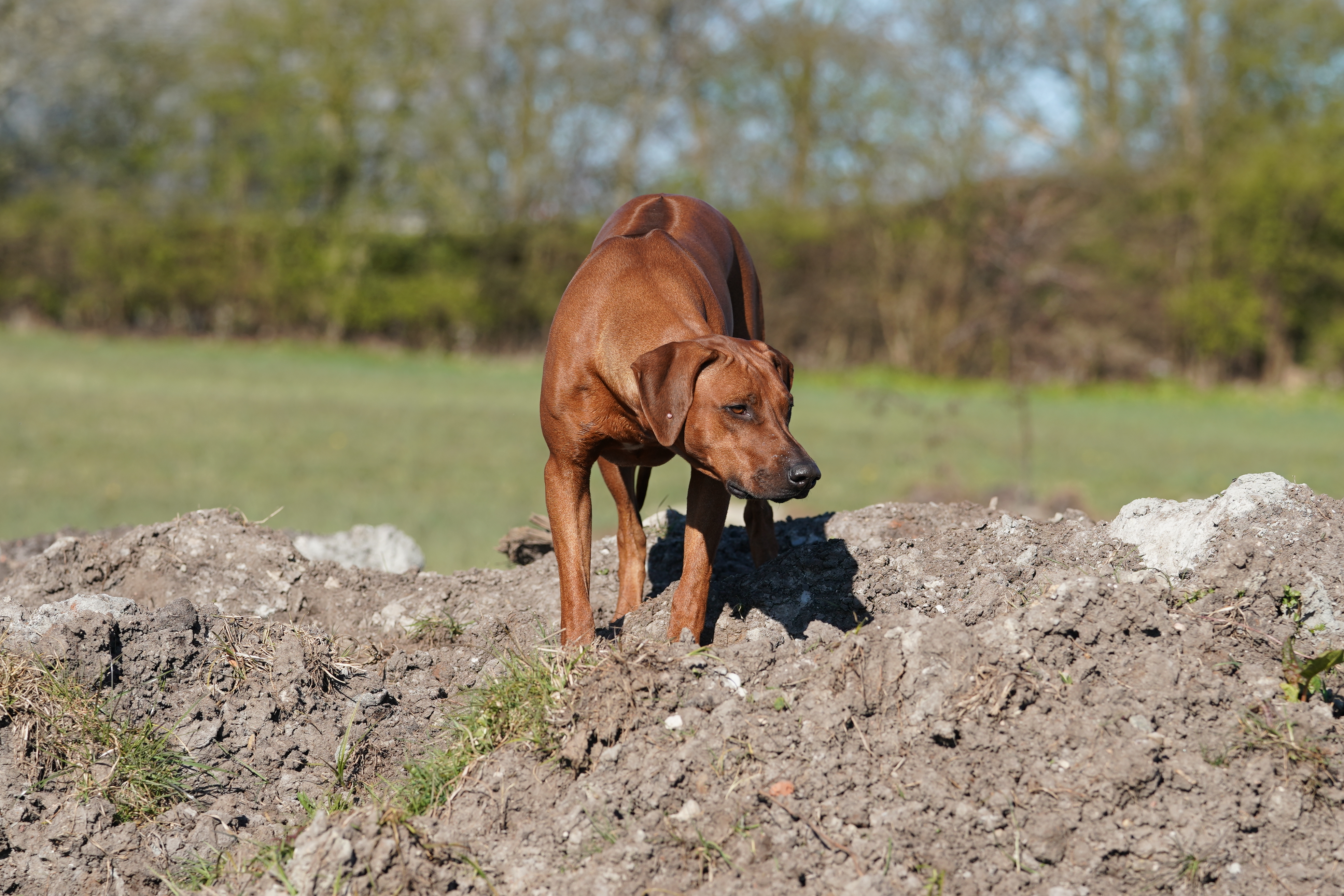 Read more about Stella
on her own web page