About Hadhari:
Hadhari was born on 18 March 2001. Hadhari's Swahili name means "careful". And he showed early on that this name was perfect for him. He was a calm and very well-balanced and very friendly RR male, and very much considerate and a gentleman towards the ladies.
Hadhari had an exeptional lovely temprament, wonderful with children and so easygoing with other dogs, also males. Everybody that met hem fell in love instantly. He was also extremely well behaved and very obedient. He was normally with his owners in their car shop, greeting customers in his lovely friendly manner. And on warm days he would lie outside the entrance on a grass patch in the sun - and he would never stray.
Hadhari lived with his family in a house with a big garden very near his brother, Ulli. Hadhari and Ulli were best friends, and so were their families. The two boys loved eachother, and Hadhari had a sad time coping with the loss of his brother when Ulli passed around 10 years old.
Hadhari (right) and brother Ulli (left):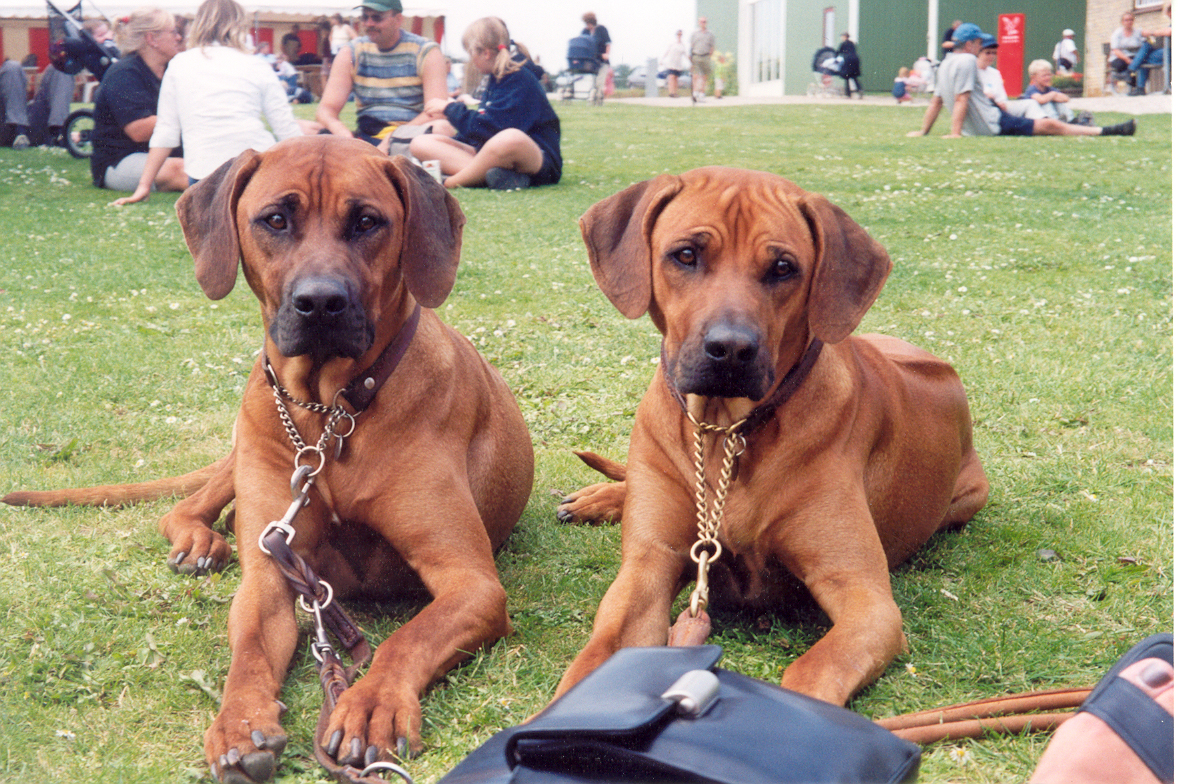 The two brothers impressed people who met them at dog shows, on the beach or in the grass on picnics in the park with their families, when they lay there beside eachother just looking at people and other dogs passing by. If another dog started to bark at them they would just look the other way, not bothering to respond.
Also on walks down in the main street, Hadhari would make people turn their heads, and very often they would approach and ask about Hadhari and praise him.

Hadhari was a family dog first and foremost. But the owners of Zumeli's Ajabu - Hadharis father - arranged a mating between Hadhari and Mudiwa's Sinne - a beautiful RR girl living with her owners and breeders in Holland. 4 males and 3 females came out of this combination. The puppy examination by the Dutch club concluded: "A very harmonious litter, well balanced and with fantastic heads and expression."
Hadhari participated in dog shows and on the 11 December 2004 he became Danish Champion and a little later he was awarded the club title Open Male Of The Year 2004/2005. After this he only participated rarely until he retired from the show ring 12 years and 8 months old. A veteran achievement worth mentioning is the time when Hadhari went BOB Veteran and 3rd Best Male 10 years and 9 months old, and he also went BOB Veteran when he was 11 years and 3 months.
Hadhari had so many wonderful qualities that Kennel Hazinas decided to contact a Danish dog reproduction clinic, CANICOLD, who has frozen semen stored for us.
Hadhari's father was the lovely Multichampion Zumeli's Ajabu, and his mother was Danish Champion Kijasaman Gukatiwa of Djungelkatten, mother of Hazinas' first three litters. Hadhari's mother reached the high age of 14½ years. Also represented in Hadhari's pedigree are many dogs from famous breeders - Djungelkatten, Marsabit, Trezridge and Sarula to mention some of them.
Hadhari was a healthy guy all his life and he never suffered from any kind of illness.
We all - family, close friends and breeder - still miss him very much.
Run free sweet Hadhari - we will never forget you - you will always be in our hearts.

Hadhari's Data:
| | |
| --- | --- |
| Born | 22 March 2001 |
| Sire: | MULTICH Zumili's Ajabu |
| Dam: | DKCH Kijasaman Gukatiwa of Djungelkatten |
| Height: | 68 cm |
| Coat: | Red Wheaten |
| Bite: | Complete and correct scissor bite |
| HD: | A / A (Free) |
| ED: | 0 / 0 (Free) |
| Health: | Healthy and fit, no illnes in his life |
| Character: | Typical character in accordance with the breed standard. Fantastic temperament, harmonic and friendly, well-balanced, easygoing with other dogs including other males. |
| Sinus: | Hadhari comes from Hazinas 1st litter - free of Dermoid Sinus, kinktail and too much white in the coats. All with complete and correct scissor bite. |

Offspring
Hadhari's litter with Mudiwa's Sinne (NL) - 2006
Mating took place in the beginning of June 2006 and the puppies were born in the beginning of August.
The Dutch RR Club's Puppy Character Test said: "A very harmonious litter, well balanced and with fantastic heads and expression."
Mudiwa's Sinne: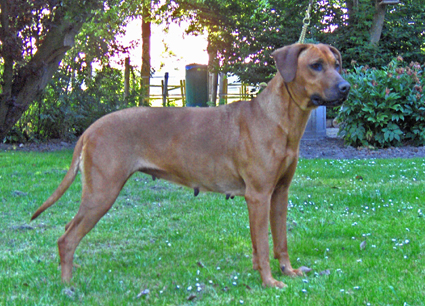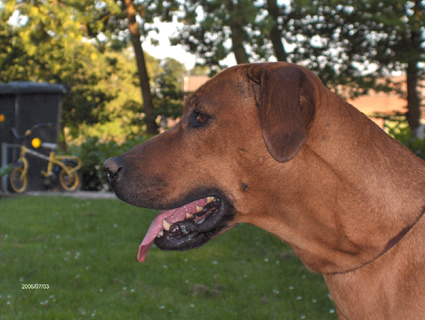 Hadhari's and Sinne's puppies
2 weeks old: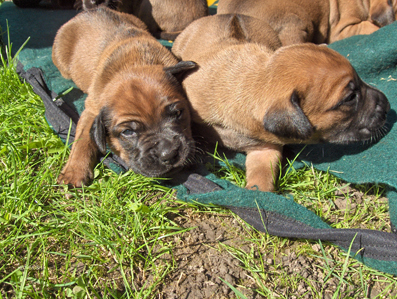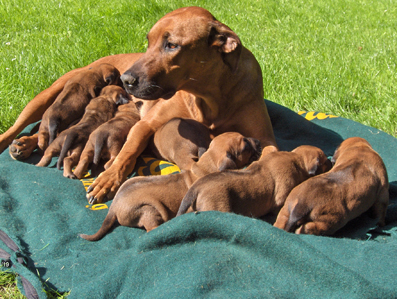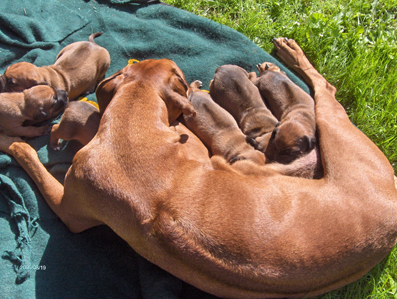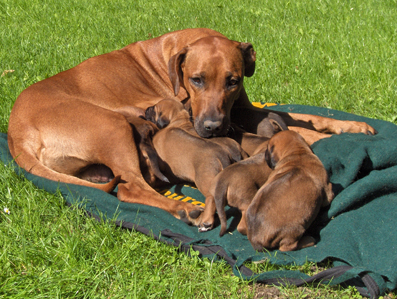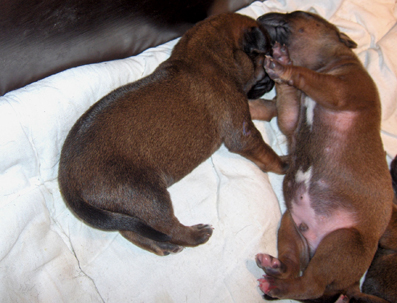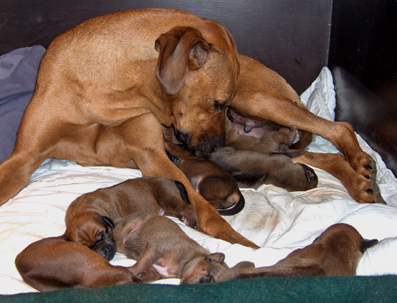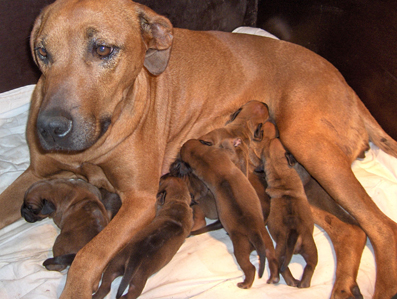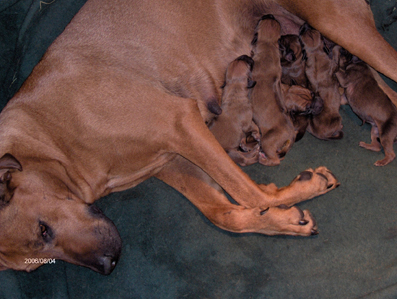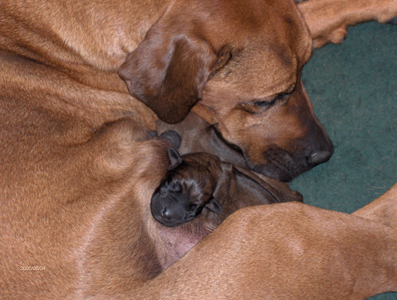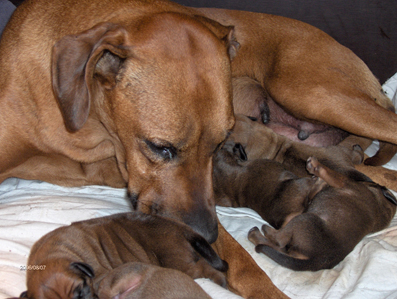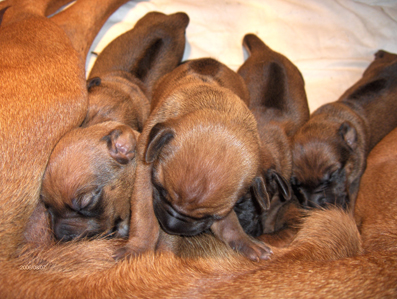 4 weeks old: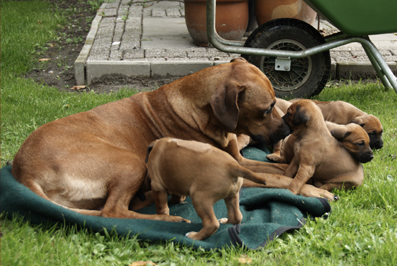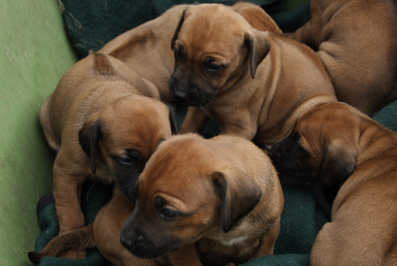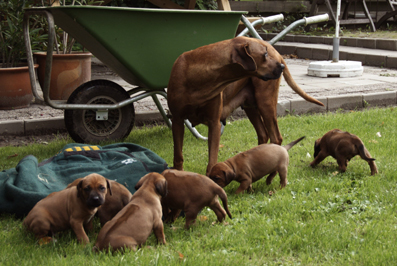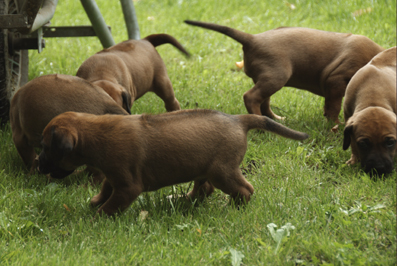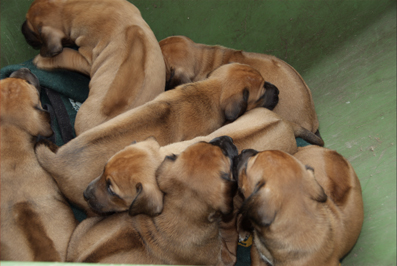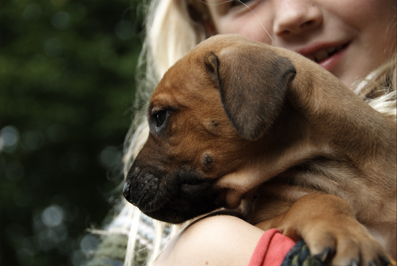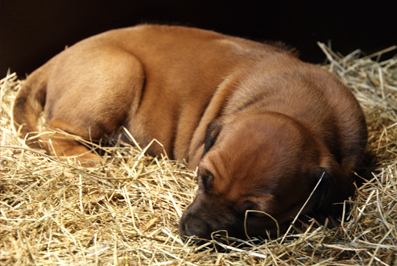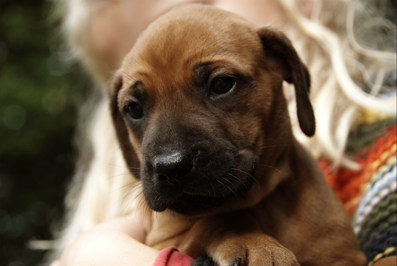 7 weeks: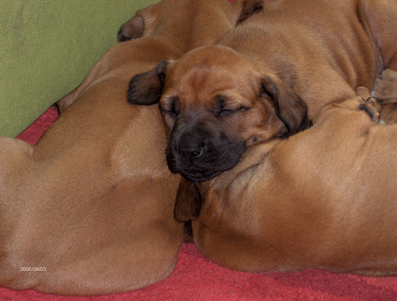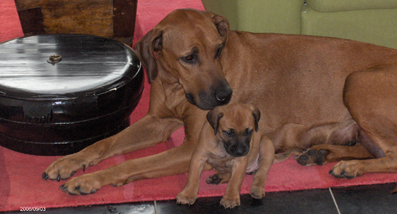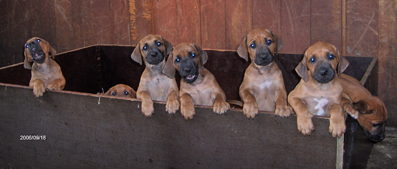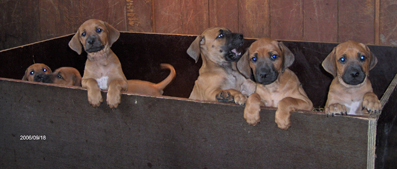 HADHARI'S PHOTOGALLERY
13 years and 4 months - Summer 2014: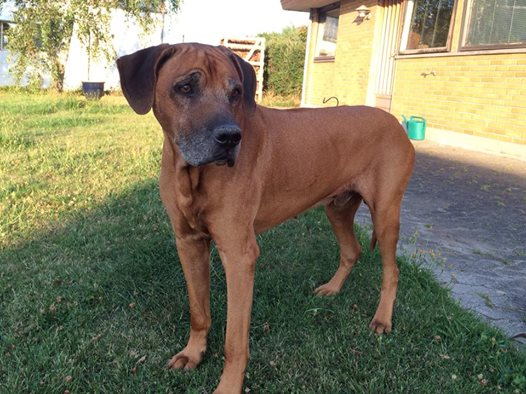 12 years - Summer 2013: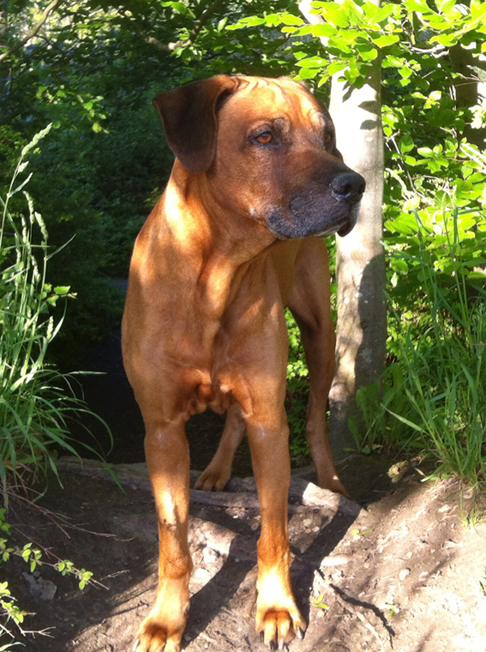 12 years - Spring 2013: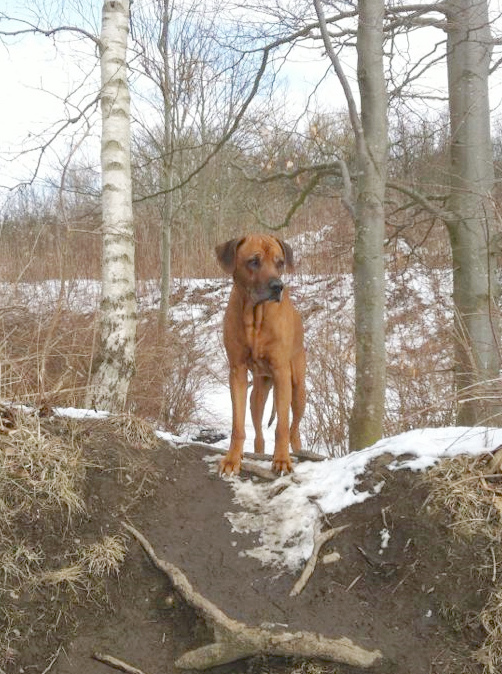 12 year birthday - 22 March 2013:

11½ years - October 2012: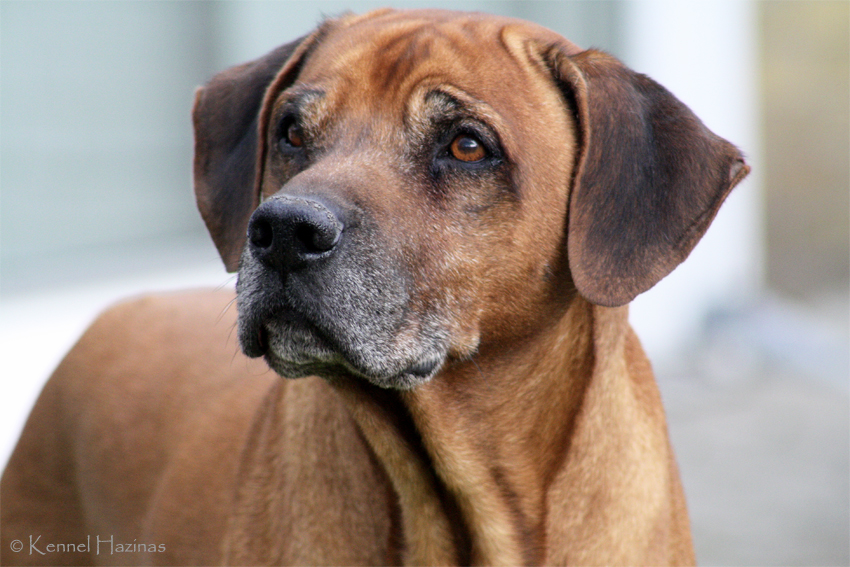 11½ years - October 2012: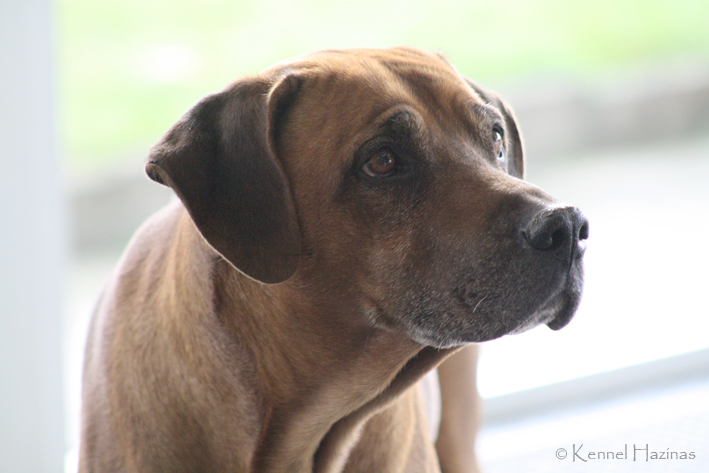 Hadhari bids customers welcome in the car shop
11½ years - oktober 2012: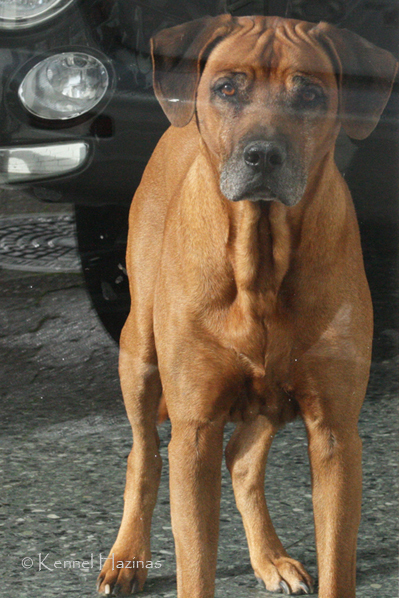 11 years - Summer 2012: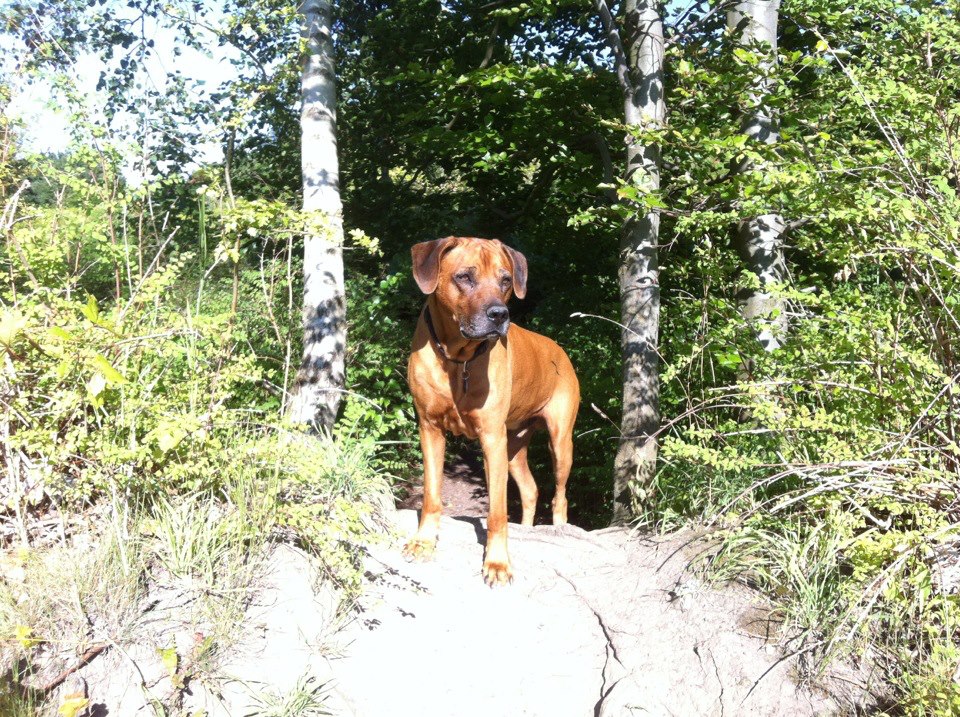 11 year birthday - 22 March 2012: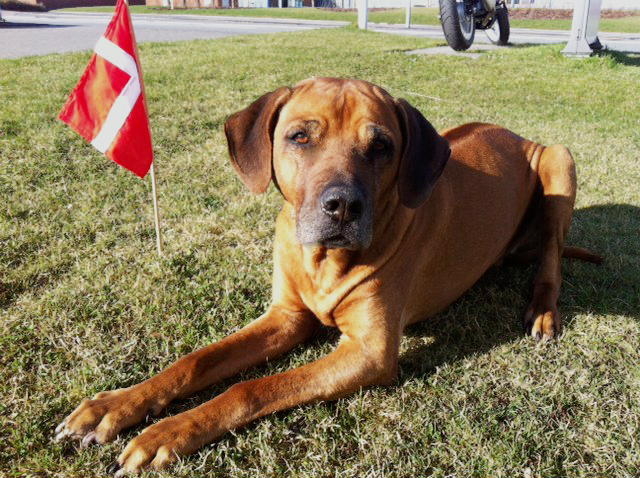 Club Show in St. Merlose: Excellent 1 with CK - BOB Veteran + 3rd Best Male
10½ years - 27 November 2011: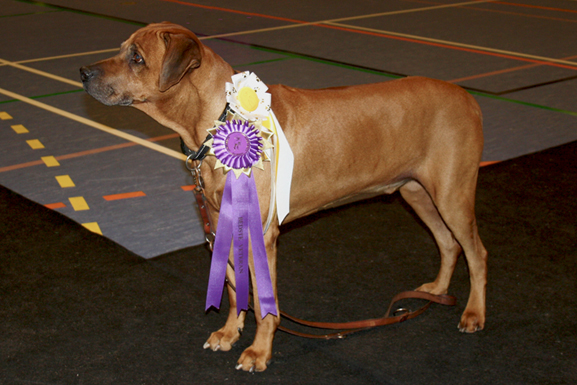 10 year birthday - 22 March 2011: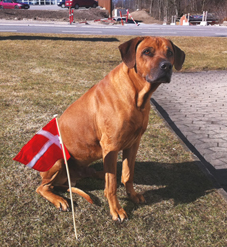 8 years - July 2009: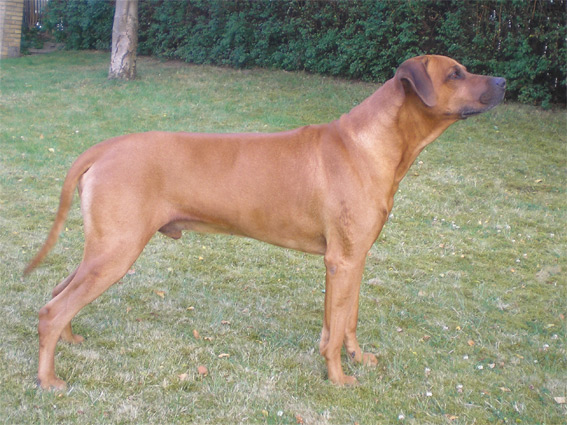 8 years - July 2009: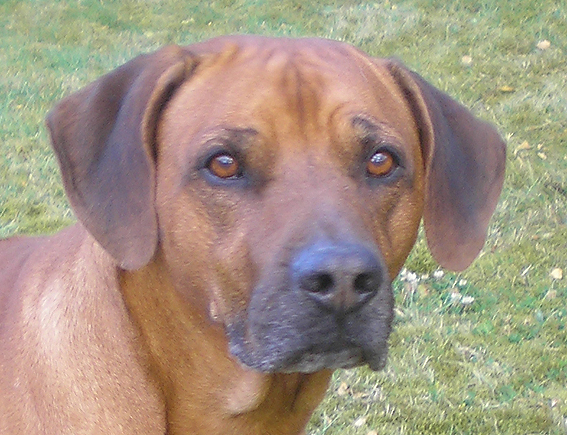 8 years - July 2009: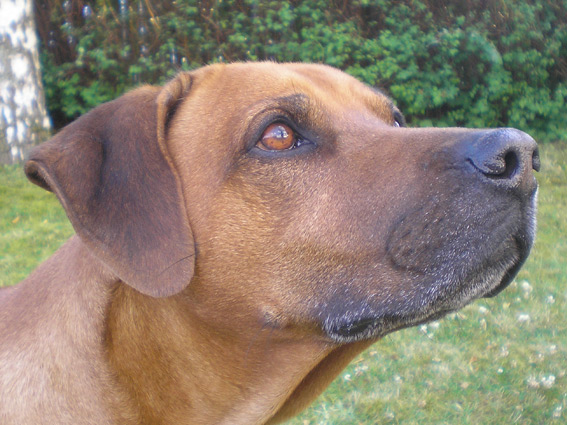 8 years - July 2009: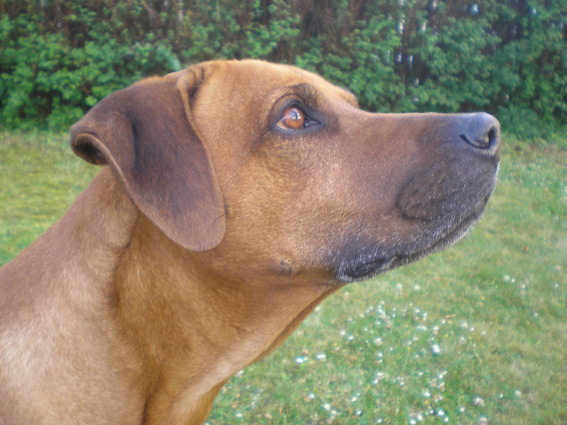 8 years - July 2009: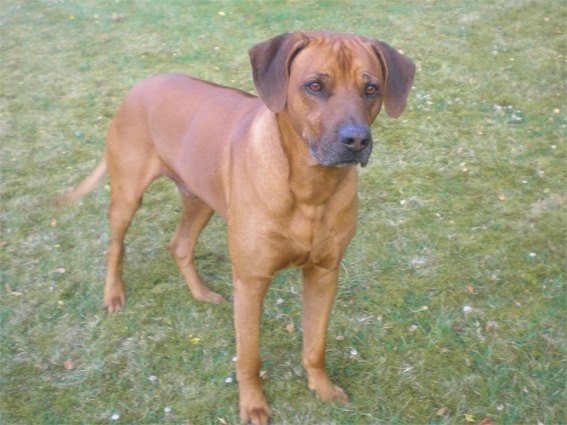 8 years - July 2009: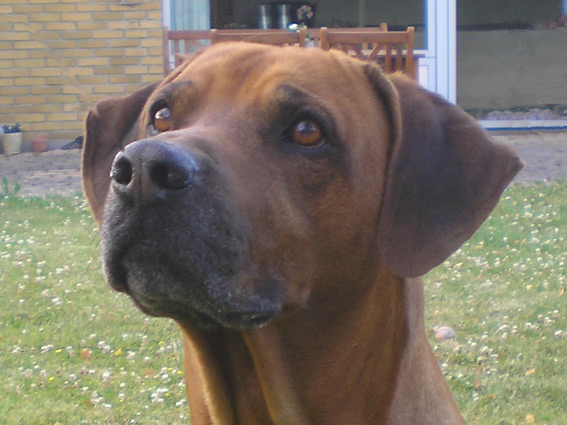 8 years - July 2009: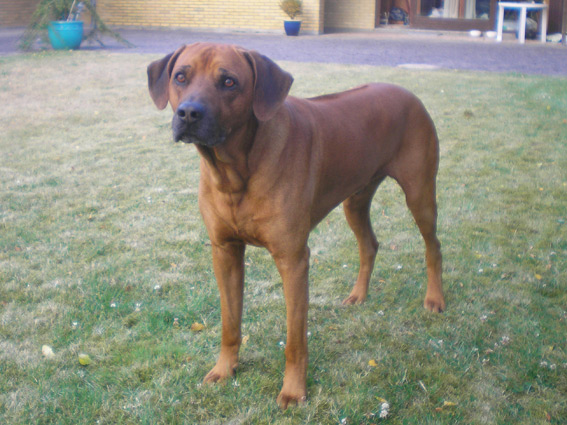 8 years - July 2009: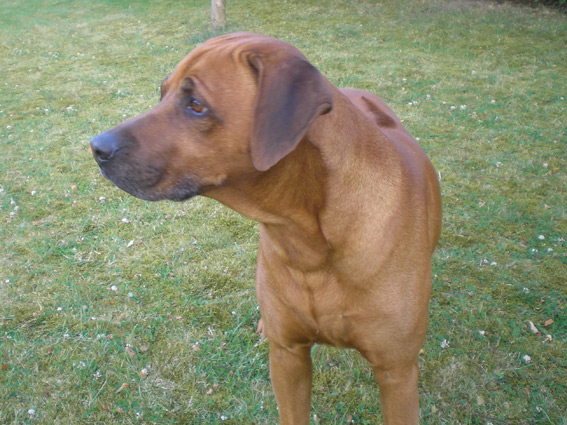 5½ years - December 2006: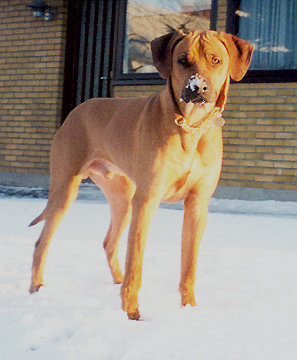 5 years - May 2006: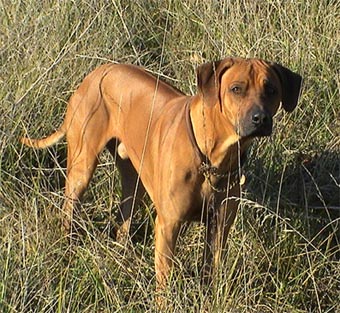 Show in Nyborg, 3 years - 2004: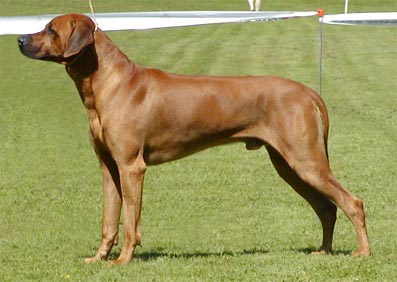 3 years - 2004: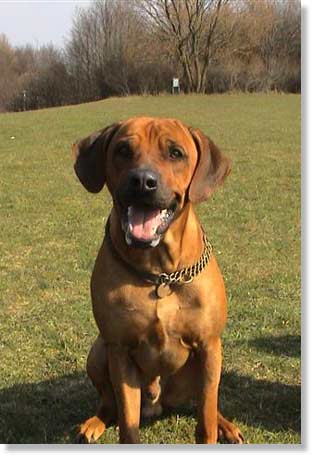 2 years and 3 months - June 2003: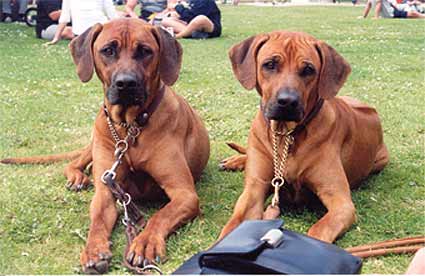 Litter brother Ulli to the left and Hadhari to the right.

Copyright © Hazinas 2022 - All rights reserved.