Hazinas 6th Fanela By U
... also known as "Cita"
Welcome to Cita's page.
Cita's pedigreename is "Hazinas 6th Fanela By U" ....6th, because she is from Kennel Hazinas 6th littter, and By U because her fathers name was Ulanyo.
Cita is a young beautiful and friendly Ridgeback girl, three years of age. She lives 25 minutes north of Copenhagen very close to the sea.
Her owner has recently reached his retirement age, so they spend a lot of time together, with long daily walks on the beach and in the woods.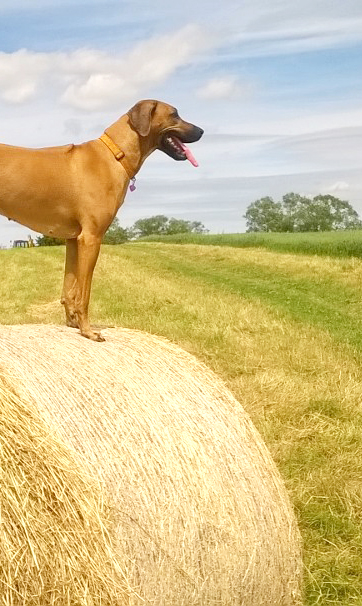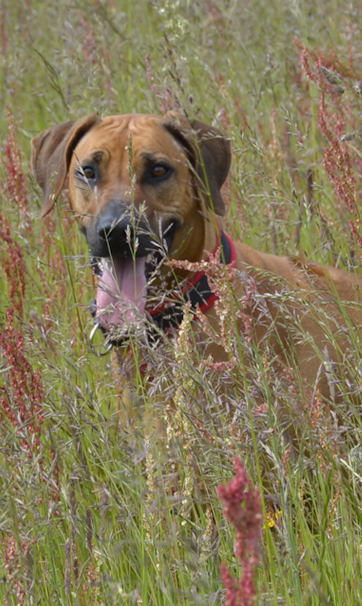 Cita has all the qualities that a Ridgeback should consist of. She is happy and very friendly towards humans, but still typically reserved. She is a magnificent guard dog and reacts with deep barks when hearing unfamiliar suspicious sounds, but otherwise calm and quite.
Cita is a well balanced and good natured girl. She loves to lay in the sun or in front of the fire place - rather typical for the breed.
Outdoors she is very active. She meets other dogs with excellent body language. She loves to run on the beach or in the woods and to play with other dogs. She often takes up scents from wild animals. And very often she will strech out in a "crazy run" which is such fun to watch. She can behave quite silly in a funny sort of way when she bolts around, but make no misstake: She is a proud Ridgeback girl who knows what she wants.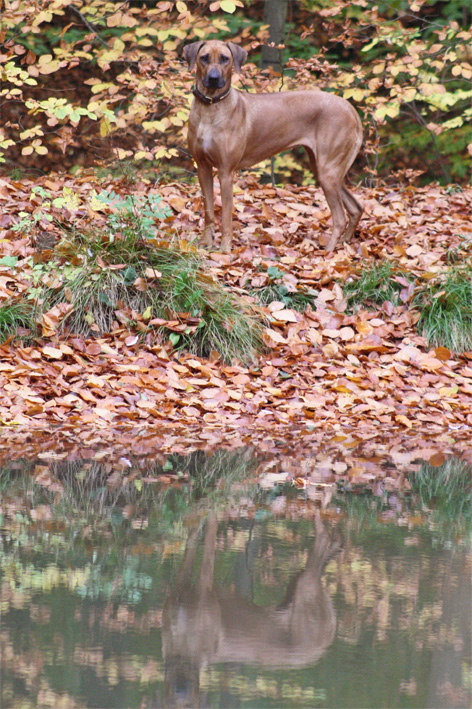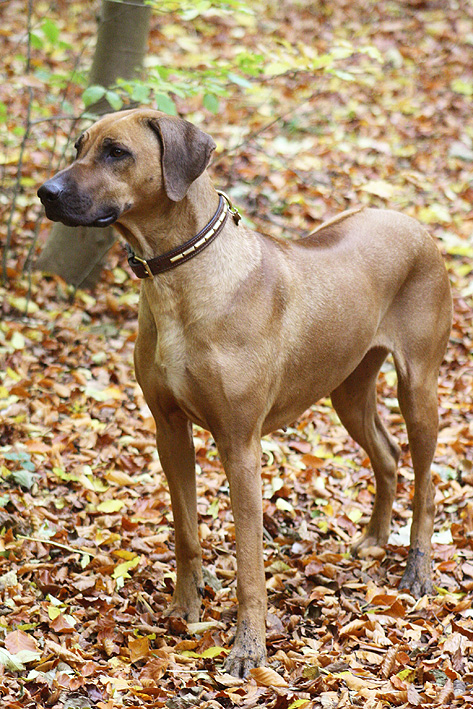 Cita on her daily walk 29-10-2015
Cita has attended obedience classes since she was a young puppy, and later on also Rally-Obedience and blod tracking.
Cita has been in the show ring the first years of her life, and here she has done rather well. Cita is "Runner Up Best Open Class Female" in the Danish RR Club's competition Dogs of The Year 2014/2015, something both her owners and her breeders are very proud of.
- - - - - - - - - - - - - - - - - - - - - - - - - - - - - -
Cita's data:
Date of Birth:

28 April 2012

Sire:

MULTICH
Glenaffric Ulanyo Of Zuritamu

Dam:

DKCH KBHV11
Hazina's 4th Tafika

Height:

64 cm

Weight:

34 kg

Colour:

Red wheaten

HD (hips):

A/A (free)

ED (elbows):

0/0 (free)

OCD (shoulders):

No remarks (free)

Bite:

Correct Scissorbite

Character tests:

Puppy mental test.
(7 weeks old).

UHM (Youth character test by Danish Kennel Klub).
Completed.


Temperament:

Very friendly and easy going. Sufficiently reserved. No agression or dominance. Excellent body language towards other dogs.

Info:

Cita comes from a large litter with no Dermoid Sinus, no kink tails and no excessive white. All have correct scissorbite. All have long ridges, one with an extra crown. All have been x-rayed and all are free of Dysplasia, exept 1 (on 1 elbow).
- - - - - - - - - - - - - - - - - - - - - - - - - - - - - -
LINKS:
Cita and her litter siblings
- 6 weeks and 4 days old.
Cita's pedigree
- 6 generations
Cita's mother
- Hazinas 4th Tafika ("Fika")
Cita's father
- Glenaffric Ulanyo of Zuritamu
Cita's litter brother Ajabu
- Hazinas 6th Fulani Ajabu By U